(all divers PLEASE READ!)
Welcome to the 2021 Dive Season!
2020 was a challenging yet rewarding season. We learned a lot, our divers gave us helpful feedback and we're ready to do it again in 2021, even better than before!
As we get closer to the season, we will revisit and update this information.

To answer your potential questions, here's some info:
Since the Atlantis IV is a larger six-pack boat, there's much more space available for passengers & we are able to maintain some distance from each other while on board. We encourage using the cockpit area as usable space and a low-profile folding beach chair can be used by anyone who might want to lounge outside rather than in the cabin (as long as it fits in the space available).
We have a soap dispenser by the outside shower faucet to wash hands. Hand sanitizer is available as well. All on board will be reminded to not touch their face or mouth. Masks can be worn by anyone at anytime. We will continue to assist our divers when entering and exiting the water to the degree that each diver is comfortable. Conversations about this are encouraged!
After each trip we will be sanitizing all hard contact-surfaces with a bleach solution (as we do already). Additionally, we will extend the sit time of the bleach solution before wiping. Lysol wipes will be available in the head for divers to use in wiping down surfaces they wish to clean (but those cannot be flushed or the head will break!).
The bunks & benches will be spray sanitized. Pillowcases and blankets will be changed after each group (or on request).
As with driving to the boat, diving in general and most of our daily activities, there is and always will be risk involved this season. We are and will continue to do our best to reduce risk in all areas of our operation while continuing to provide a quality dive experience for everyone on board the Atlantis IV.
*ALL DIVERS ARE EXPECTED TO HAVE THE DIVE WAIVER COMPLETED BEFORE ARRIVAL*
There are other adjustments you will notice when on board. Let's go DIving/Fishing!
As you might expect, conversation and questions are welcome! Please reach out in whatever way you like!
WELCOME! Click here for the
2021 calendar
!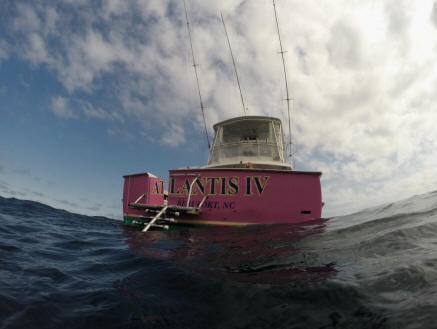 With Atlantis Charters, you get more.
Diving and Fishing charters with all the comforts of home.
Please be aware: anyone spear/fishing on the Atlantis IV
must have a current NC Saltwater fishing license.
Please click the links above & below for more information.
This is a great webcam looking at our beach- check it out!
UPDATES TO THIS WEBSITE ARE ALWAYS IN PROGRESS
updated on 7/27/21